BIO
I'm a queer visual artist and poet living in Bergen (NO), working from a deep interest in abstract painting, and expanding to include drawing, text, photography, sculpture and installation. I mainly create nonfiguratively, with attention to detail, and with an expressive vocabulary ranging between transparency and opacity. On a personal level my work has developed to be an exercise in finding the connections between the wordlessly fleeting qualities of my work and my queer gender identity. Through abstraction I distance the work from the recognisable form, and embrace the aesthetics of awkwardness, struggle, nonsense and contingency. I want my work to urge us to consider the in-between and changeable as a core component of survival.
– Runa Halleraker (b. 1995, Trondheim, NO)
Contact
contact@runahalleraker.com , for sales, commissions, collaborations and other inquiries.
CV
EDUCATION
2020-2022: Masters in Fine Arts at The Art Academy - Department of Contemporary Art, Bergen Faculty of Fine Art, Music & Design, UiB (NO)
2017-2020: Bachelor in Fine Arts at The Art Academy - Department of Contemporary Art, Bergen Faculty of Fine Art, Music & Design, UiB (NO)
2018-2019: Bachelor Painting, Erasmus exchange program, Camberwell College of Arts, University of Arts London (UK)
2014-2016: Art Photography, Norwegian School of Photography (NO)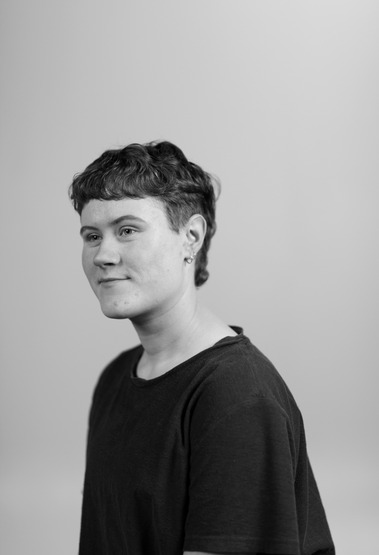 EXHIBITIONS
SOLO
2023 – What is Needed in the Corners, Rom 61, Bergen (NO)
2021 – NONBODYVISION, Galleri Blunk, Trondheim (NO)
2021 – If They Hit Just Right, Kiosken Studio / Artfolk Bergen (NO)
2021 – LIKE TRAINS OF THOUGHT, KNOTS OF THOUGHT, Galleri FI4E, KODE 4, Bergen (NO)
2020 – The Artist and The Muse (Digital), Trans Awareness Week, KOPF KINO, Bergen Kunsthall (NO)
2019 – Jeg er skogen og du er himmelen men ikke solen, Galleri Fisk, Bergen (NO)
GROUP / DUO
2023 – Unge Inviterte, Galleri LNM, Oslo (NO)
2022 – PICNIC, MA exhibition, Bergen Kunsthall (NO)
2021 – I Feel Less Shy When You're So Close to Me That You Can't See Me , duo, Studio K, Bryne / Stavanger (NO)
2021 – ZIP Friction, Bergen Kjøtt, Bergen (NO)
2020 – ODD GROWTH, Lars Hilles Gate 3, Bergen (NO)
2020 – Isolering I Kommunikation, Färgfabriken, Stockholm (SE)
2020 – The (Not) Degree Show, Vestland Kunsthall, Bergen (NO)
2019 – MERGE, CGP Gallery, London (UK)
2018 – Självhjälpsbiblioteket, Joy Forum, Bergen (NO)
2018 – Det Lillas Manifest #2, Skogsfesten, Dalsland (SE)
2018 – Practicing Identity, Joy Forum, Bergen (NO)
2018 – Det Lillas Manifest, Galleri Bokboden, Bergen (NO)
2017 – Annual Exhibition: Uncertain States Scandinavia, Oslo (NO)
2016 – Annual Exhibition: Uncertain States, London (UK)
2016 – Graduation Exhibition, Norwegian School of Photography, Trondheim (NO)
2016 – Fear of Forgetting, Studentersamfundet, Trondheim (NO)
2015 – Corpus, Norwegian School of Photography, Trondheim (NO)
ARTISTIC PUBLICATIONS
2022 – fem tusen og fem – Special Edition, produced by Nayara Leite, curated by Daniela Ramos Arias, in collaboration with Skeiv Arkiv, supported by HordalandKunstsenter
2021 – With Our Hearts in Our Mouths, edited by Marion Bouvier
2021 – Om Berøring, edited by Trude Berg
2020 – Bøygen 3-4/20 Politikk

2020 – ODD GROWTH , exhibition catalogue

2019 – The Artist and The Muse, 44 pages, 34 x 50 cm, self published

2018 – Everything is Connected in Life, 28 pages, 14,8 x 21 cm, self published
2018 – Practicing Identity #1 , exhibition catalogue

2017 – Porer på månen, 26 unstitched pages, 37,5 x 52 cm, self published
2016 – Den tørre humla i vinduskarmen, 34 pages, 20x14cm, hand made, self published
2015 – Perler, zine, 84 pages, 21x26cm, self published
TALKS & READINGS
GRANTS & AWARDS
2023 – Atelier for nyutdannede kunstnere, CS55
2022 – Etableringsstipend for nyutdannede kunstnere, Bergen Kommune

2022 – KMD's USF Studio Residency (September 2022 – August 2023)

2022 –Diversestipend for nyutdannede kunstnere, Kulturrådet

2018 – Material support, Trafo

2016 – Exhibition support, Trondheim strakstiltak for kunst & kultur